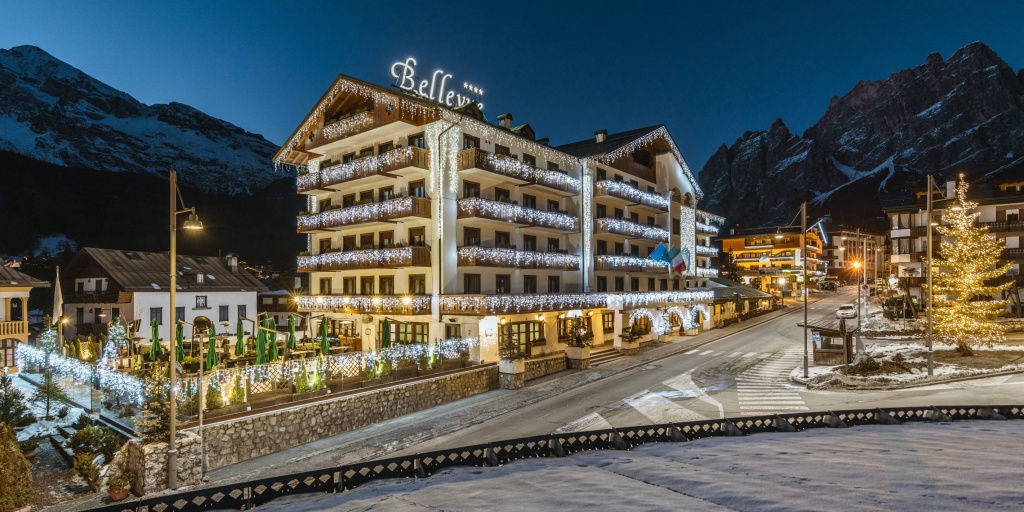 The Winter Olympic hotel is about to get a 25 million euro makeover
Images courtesy of Invel Real Estate.
A historic hotel in the Winter Olympics destination of Cortina d'Ampezzo, Italy, will undergo major renovations after changing hands.
Prodea Investments and Invel Real Estate acquired the Bellevue Suites & Spa hotel for approximately 49 million euros ahead of the 2026 sporting spectacle.
Deep renovation
The new titleholders intend to undertake a c. A €25 million deep renovation project, delivering a five-star luxury hotel with up to 100 rooms, ahead of the opening of the Games. The catering offer will also be upgraded to international brand restaurants, making the hotel a dining destination in Cortina.
The six-story building, currently part hotel and part private residences located in the center of the ski resort, is now 75% owned by Prodea, with the remaining 25% going to Invel through its discretionary fund Eudora Fund LP.
The hotel was founded in 1894, designed with the concept of welcoming sophisticated guests and lovers of the mountain atmosphere.
Local approval
Invel Managing Partner and Founder Chris Papachristophorou said, "This acquisition is a strong endorsement of our local knowledge and network, allowing us to source unique assets and create value.
"Our interest in the hospitality sector remains strong in Greece, Cyprus and Italy, where Prodea and Invel have a high concentration of investments, and we now have a remarkable opportunity to develop a new luxury hotel in the heart of Cortina d'Ampezzo, before the 2026 Winter Olympics.
Preparing for games
Other brands are also heading to Cortina d'Ampezzo to capitalize on Games tourism. Mandarin Oriental recently announced its first mountain resort, which will be located in the city.
The hotel chain has signed a long-term management agreement with investment manager Attestor Limited to rebrand and manage the historic Cristallo Hotel, which will undergo a substantial refurbishment after it closes in the second quarter of 2023. property will reopen as Mandarin Oriental Cristallo, Cortina in the summer of 2025.