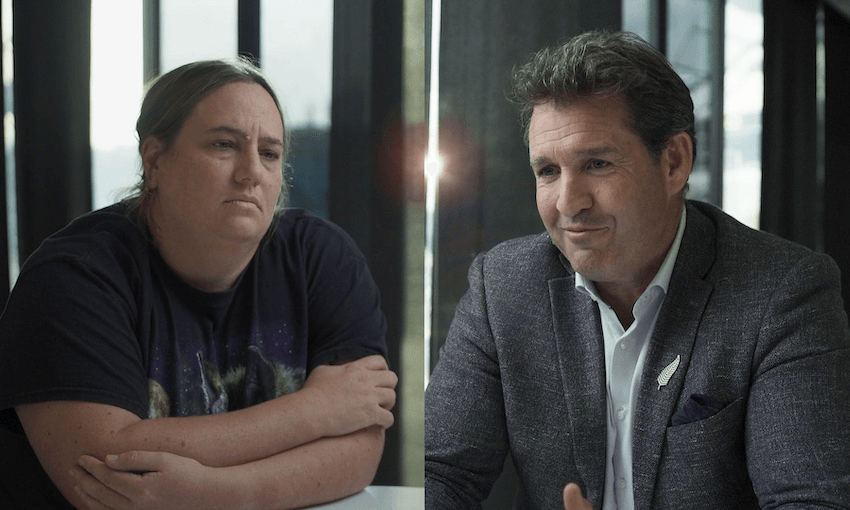 Why have the All Blacks never campaigned against domestic violence?
In a five-year-old episode of Alice Snedden's Bad News, the comedian finally gets the chance to ask NZ Rugby some questions.
Rugby is our national sport, a beloved blood sport that makes heroes of all who don the black jersey to represent our nation. But if the All Blacks are such a powerful cultural institution in Aotearoa, why have they never campaigned against domestic violence? Five years have passed since the New Zealand Rugby Respect and Responsibility Review, so what has changed?
In the latest episode of Alice Snedden's Bad News, Snedden looks back on the litany of scandals that have plagued rugby over the past decade and asks how has rugby become so entwined with toxic masculinity? As former Premier League player and comedian Joe Daymond explains, it was in him when he was young. "Especially if you go to an all-boys school, the only time you interact with women is when you're pissing after a game."
"It was scary when that was a prospect for guys who had been doing this for four years in high school, imagine guys who are professional rugby players doing this for 20 years?"
New Zealand Rugby CEO Mark Robinson said the respect and responsibility review reflected rugby and revealed how they could improve their cultural environment. The past two years have seen resource cuts thanks to Covid-19 which have delayed some of the changes, but Robinson insists progress is being made. "It's certainly not completely forgotten, it's an area that we really want to get back on our feet."
Criminologist Dr Lynzi Armstrong says there has been a "culture of silence" around rugby for decades. "We cannot consider this culture of silence as related to spectators, but we can also consider it as related to organizations." Then, in a sequence that has to be seen to be believed, Snedden reveals what happened the first time she attempted to do this episode of Bad News, in 2018.
Watch the full Alice Snedden bad news series here.